Skip Hire Made Easy For Adelaide's Western Suburbs
Fluro Skip Bins hire out skip bins to a multitude of suburbs within Adelaide. If you can't find your suburb in the list below please contact us to make sure we can deliver to you.
Fluro Skip Bins Adelaide services the western suburbs. Live in Port Adelaide, Woodville, Findon, Keswick, Peterhead or Hindmarsh? Export Park, Exeter or Kilkenny? Wherever you live in the western suburbs of Adelaide, Fluro Skip Bins Adelaide have got you covered for cheap mini skip hire.
We're the team you can rely on again and again, so keep our details in your phone for all your large-scale waste needs.
The simpler choice in skip bin hire
At Fluro Skip Bins, our goal is to make waste management faster and easier for local home and business-owners. A locally-owned, family-run company, our team understands the needs of people across Adelaide, providing the speedy, comprehensive skip bin hire service you need at a price you'll love. With the ability to provide skip bins for multi-day projects anywhere in the western suburbs, there's no one in Adelaide that we can't support.
Best of all, we provide full delivery and collection service, meaning you have everything you need to get on with the job. Discover why we're the choice for every project across the city from spring clean-ups to home renovations and speak to our team today.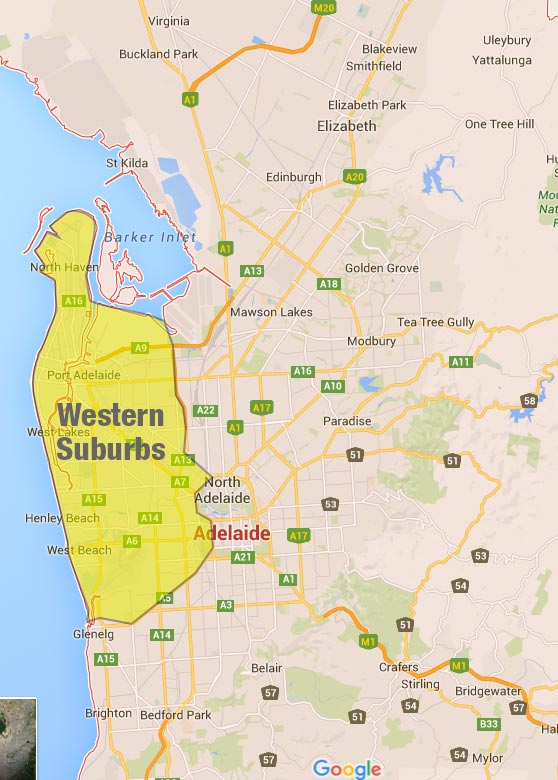 Reserve your skip bin today
It is best to book your skip bin in advance (the day before is generally fine). However if you need same day delivery it's advised to book before 10am. You can reach us over the phone on 0418 318 867 or via email at flurobins@gmail.com. Whether you're in the southern suburbs or need assistance with a project in Virginia in the north, we want to help you. When you need cheap skip bin hire in the western suburbs, trust the team at Fluro Skip Bins.
Western Suburbs We Service
Here are the western suburbs of Adelaide covered by Fluro Skip Bins:
(if your suburb isn't listed below please do not hesitate to call and ask if we can deliver and collect from you)
Adelaide Airport
Albert Park
Alberton
Allenby Gardens
Angle Park
Athol Park
Beverley
Birkenhead
Bowden
Brompton
Brooklyn Park
Camden Park
Cheltenham
Cowandilla
Croydon
Croydon Park
Enfield
Ethelton
Exeter
Export Park
Ferryden Park
Findon
Flinders Park
Fulham
Fulham Gardens
Garden Island
Gillman
Glanville
Grange
Hendon
Henley Beach
Henley Beach South
Hilton
Hindmarsh
Keswick
Keswick Terminal
Kidman Park
Kilkenny
Largs Bay
Largs North
Mansfield Park
Marleston
Mile End
Mile End South
Netley
New Port
North Haven
Osborne
Ottoway
Outer Harbor
Ovingham
Pennington
Peterhead
​Port Adelaide
​Queenstown
​Regency Park
​Renown Park
​Richmond
​Rosewater
​Royal Park
​Seaton
​Semaphore
​Semaphore Park
​Semaphore South
​Taperoo
​Tennyson
​Thebarton
​Toorak Gardens
​Torrens Island
​Torrensville
​Underdale
Welland
West Beach
West Croydon
West Hindmarsh
West Lakes
West Lakes Shore
West Richmond
Wingfield
Woodville
Woodville Gardens
Woodville North
Woodville Park
Woodville South
Woodville West
Need a cheap skip bin in other areas? We offer our cheap skip hire services to many suburbs throughout Adelaide Metro. Browse through our Delivery Areas page which lists all the suburbs we service for mini skip hire, or click on your area below: