Home » Skip Bin Hire » Waste Types »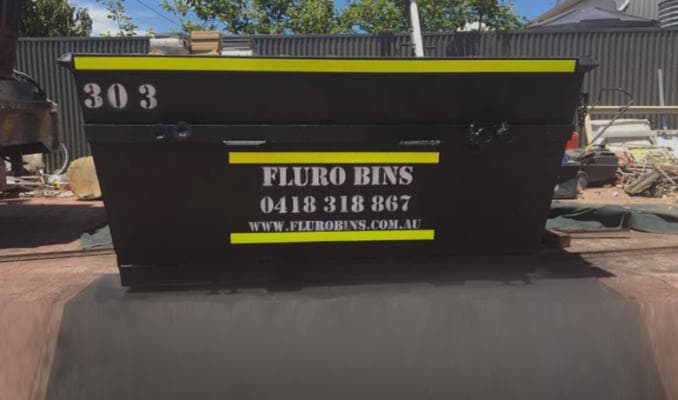 Concrete Removal in Adelaide
Let us take care of the heavy lifting. Fluro Skip Bins is a concrete waste disposal company that covers most of Adelaide. We'll deliver a skip bin direct to the location of your choice and then take care of pickup once it's full to the brim. Whether you're renovating a house, re-paving outside or doing general demolition work, rest assured that we have all your bases covered. Look to us for a standout service and know that when it comes to concrete waste removal, there's no better choice than Fluro Skip Bins.
What can you put in a concrete skip bin?
Unsure about what can go in a concrete skip bin? You've come to the right place. You can dump concrete, bricks, pavers, tiles and similar materials into a concrete bin. However, you'll need to steer clear of general waste, green waste (such as trees and leaves), soil, food scraps and, of course, toxic waste like asbestos. This is important because waste removal facilities won't accept any of the above in a concrete skip bin.
Things to consider when hiring a bin for concrete removal
Customers that hire a concrete waste disposal bin should always adhere to the types of materials that can and can't be left inside. But they should also consider two other important things. First, remember that you must work within fill limits to ensure that the bin doesn't create any hazards or create a risk to yourself and those nearby. Second, wearing a face mask is always a good idea as concrete (particularly when broken up and dropped) can fill the air with particles that can enter the nose and mouth. This poses a potential safety risk and is well worth being prepared for.
Contact us today
Get in touch with the team at Fluro Skip Bins if you need a skip bin for concrete removal. We provide a standout service to customers throughout Adelaide that is reliable and professional. For small and large-sized units that always arrive on time, there's no better choice than us. We can also help with general waste removal.
FAQ
What can you do with concrete waste?
Concrete waste can be disposed of by a professional removal company. In most cases, they will drop a skip bin off at your location and then organise for it to be picked up once full. All you need to do is throw your concrete waste inside. Remember to follow the rules regarding how high you can fill a bin to ensure that everything is collected safely.
Where do I take old concrete?
Old concrete can be taken to a waste removal facility, a C&D recycling centre or a building supply company that sells recycled materials. The best way to do this is by hiring a skip bin that can be delivered to your property and then picked up again once full.
What happens to concrete waste?
Concrete waste is sent to the local recycling centre or a transfer station where it can be recycled for use on other projects. Building supply companies that sell concrete products also take old concrete waste. Be sure to adhere to any requirements when it comes to disposal and ensure that you always do so in a safe and ethical way.